Stalker Radar Stalker II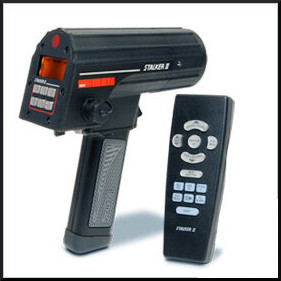 The Stalker Radar Stalker II directional radar in a hand-held lightweight package. It is provides the option of mobile or stationary use in a hand held.

The Stalker II includes a direction-sensing antenna with the same quality control and target analysis as it mobile cousin the Stalker DSR. Capable of measuring speeds of approaching, going away and in moving mode same direction, this radar is one of the more versatile in the Stalker Radar range.
Direction Sensing Technology
Measure Away, Closing or both directions simultaneously in stationary mode.
With the MDR measure closing and same direction speeds when mobile.
Faster speed tracking
3 window display
Track-thru lock
Backlit LCD for nighttime use
Advanced digital signal processing (DSP)
Touch panel keyboard
Remote control option
Serial Port
New high capacity battery handle
Cordless operation available
Detachable handle design
Rugged die-cast metal construction
Easily mounted on any law enforcement vehicle - automobile, motorcycle, or watercraft
Moving & stationary versions
Stalker II MDR Specifications:
Type
Handheld Moving/Stationary Doppler Radar
Size (LxWxD)
18.5 cm x 20.1 cm x 7.2 cm
Weight
0.98 kg with battery handle attached
Radar Body Material
Aluminium and Magnesium die castings
Handle Case Material
ABS polymer
Operating Frequency
34.7 GHz (Ka-band)
Stability
±100 MHz
Battery Type
Removable/rechargeable sealed battery handle containing a 7.2 Volt Li-Ion battery
Battery Capacity
2000 mAh
Power Requirements
Removable Battery Handle: 7.2 VDC nominal
Cigarette Plug Coil Cord Handle: 7.0 to 18.0 VDC
(currents are typical at 12VDC with Cigarette Plug Handle)
XMIT with all displays off and back light off: 280 mA
XMIT with moving target and back light: 280 mA
XMIT with no target and back light: 300 mA
Standby with no target and back light on: 150 mA
Standby with no target and back light off: 130 mA
Sleep mode: 30 mA (when battery powered only)
Environmental Temperatures
-30°C to +70°C, 90% Relative Humidity, Operating
0°C to 45°C, 90% Relative Humidity, Battery Charging
-40°C to +85°C, Non-Operating
Display
Back-lighted LCD with 3 speed windows (Target speed, Lock/Fast speed, and Patrol speed), 4-digit Alphanumeric status window, XMIT icon, and CHG icon
Auto Self Test
Performed every 10 minutes while transmitting
Stationary Speed Range
8 KPH to 321.8 KPH Standard
24.1 KPH to 321.8 KPH (option menu selectable)
Moving
Speed Range
Patrol speed - Selectable with P.S. 5/20 key:
5 in patrol window for acquisition of 8 to 144.8 KPH
20 in patrol window for acquisition of 32.2 to 144.8 KPH
Patrol speed, once locked, will track to 241.4 KPH

Opposite lane target speed - 321.8 KPH Max closing
For 8 KPH patrol speed: 32.1 KPH to 313.8 KPH
For 112.6 KPH patrol speed: 56.3 KPH to 209.2 KPH.
Same lane target speed – Related to patrol speed: ±70% of patrol speed within 8 KPH of patrol speed. i.e. for 80KPH: 25.7→72.4 KPH and 88.5→136.8 KPH.
Same lane patrol speed must be greater than 25.7 KPH.
Accuracy
+2, -3 KPH
Stalker II SDR Specifications:
Type
Handheld Stationary Doppler Radar
Size (LxWxD)
18.5 cm x 20.1 cm x 7.2 cm
Weight
0.98 kg with battery handle attached
Radar Body Material
Aluminium and Magnesium die castings
Handle Case Material
ABS polymer
Operating Frequency
34.7 GHz (Ka-band)
Stability
±100 MHz
Battery Type
Removable/rechargeable sealed battery handle containing a 7.2 Volt Li-Ion battery
Battery Capacity
2000 mAh
Power Requirements
Removable Battery Handle: 7.2 VDC nominal
Cigarette Plug Coil Cord Handle: 7.0 to 18.0 VDC
(currents are typical at 12VDC with Cigarette Plug Handle)
XMIT with all displays off and back light off: 280 mA
XMIT with moving target and back light: 280 mA
XMIT with no target and back light: 300 mA
Standby with no target and back light on: 150 mA
Standby with no target and back light off: 130 mA
Sleep mode: 30 mA (when battery powered only)
Environmental Temperatures
-30°C to +70°C, 90% Relative Humidity, Operating
0°C to 45°C, 90% Relative Humidity, Battery Charging
-40°C to +85°C, Non-Operating
Display
Back-lighted LCD with 3 speed windows (Target speed, Lock/Fast speed, and Patrol speed), 4-digit Alphanumeric status window, XMIT icon, and CHG icon
Auto Self Test
Performed every 10 minutes while transmitting
Speed Range
8 KPH to 321.8 KPH Standard
24.1 KPH to 321.8 KPH (option menu selectable)
Accuracy
+2, -3 KPH
Ballinger Technology Pty Ltd
Unit 20/23 Heyington Avenue Thomastown Vic 3074
Phone 03 93868722