TDS CAN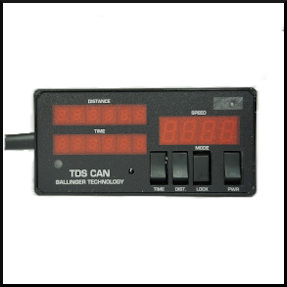 The TDS CAN, Time, Distance and Average Speed measurement instrument includes a speedometer and a versatile inbuilt CAN bus and speed pulse interface. The Can Bus and speed pulse interface makes it suitable for use on most modern vehicles.

A streaming serial output containing Time, Distance, and average speed at the end of a times and distance measurement as well as real time speed makes this a useful addition to GPS mapping or measurement methods, especially in areas where GPS signal is lost.

Offering both Time Distance and Average speed measurement or just straight speedometer mode the TDS CAN can be used to measure a vehicles speed in a number of ways by law enforcement including:
– Speed trap.
– Following speed.
– Time and distance mobile speed checks where radar will not work.

All TDS CAN instruments come with the ability to output a speed pulse signal for mobile radar VSS use.
Made in Australia by Ballinger Technology
Measures Time and Distance with average Speed being self calculated at the end of a measurement sequence
Separate TIME and DISTANCE measurement activation switches
Speed lock switch to allow checked speeds to be locked into the display
Separate time and distance switches to the start and end of measurement sequences
Time displayed to +/- 0.1 second accuracy
Distance displayed to +/- 1 metre accuracy
Speed displayed to +/- 2 KPH accuracy.
RS232 data string containing, Speed, Distance, Time, Average Speed.
9600 8 N 1.
Self test function
High brightness 7 segment displays visible in direct sunlight
Low power consumption
Vehicle interface
Speed Pulse
Can Bus
Serial Output
RS232 9600 8 N 1
Speed accuracy
+/- 2 KPH accuracy with the speed readings averaged over a 2 or 1 second period with a 0.5 second display update rate
Time accuracy
+/- 0.1 seconds
Distance accuracy
+/- 1 metre.
Display
Time displayed to 99999.9 seconds
Distance displayed to 999999 metres
Speed displayed to 300 KPH
Power
12 VDC operation
Dimensions
151mm wide X 51mm high X 35mm deep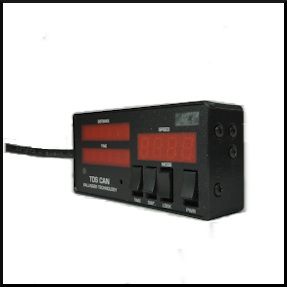 Ballinger Technology Pty Ltd
Unit 20/23 Heyington Avenue Thomastown Vic 3074
Phone 03 93868722