Stalker Radar 2X Mobile Radar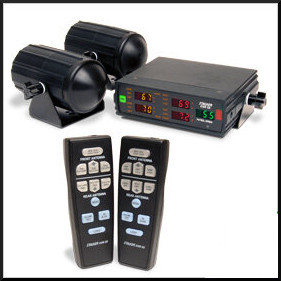 The Industry-leading Stalker Radar 2X mobile radar is Stalkers most advanced radar to date. Offering technology, performance, and safety features in a single multi antenna radar.

The Stalker 2X is two, full functioning direction-sensing radars in one compact unit. It can simultaneously monitor front same and front opposite or rear opposite and rear same target zones from a single antenna. And, features a patented Rear Traffic Alert to warn the officer of a rapidly overtaking same-direction traffic in situations when the vehicle is most vulnerable.
Display capable of displaying speed for all 4 target zones simultaneously.
Simultaneous 2 antenna operation.
True Doppler Audio

Rear Traffic Alert Rear Traffic Alert, to provide a warning to the patrol officer of rapidly overtaking same-direction traffic when the patrol vehicle is vulnerable to rear-end collisions – pulling into traffic from a standing start.
"Faster" Target Locking
Simplifies Moving "Same-Direction" Operation
Provides Voice Verification of the Antenna, Radar Mode, and Direction

Track-Thru Lock,
Vehicle Speed Sensing (VSS)
Small Counting Unit with Removable Display

Serial Port, In Car Video Compatable.
General Specifications:
Type
Dual Antenna Direction Sensing Moving/Stationary Doppler Radar
Operating Frequency
33.4 GHz - 36.0 GHz (Ka-Band)
Stability
–100 MHz (Ka-Band)
Power Requirements (2 Antennas)
With 2 Antennas)
10.0 to 16.4 VDC. (currents are typical at 12.0 VDC):
XMIT on FRONT & REAR, no targets, stationary: 1.35A XMIT on FRONT & REAR, no targets, moving: 1.40A XMIT on FRONT & REAR, with 25 mph targets, stationary: 1.75A XMIT on FRONT & REAR, 25 mph patrol with 15 mph targets: 1.53A XMIT on FRONT with 25 mph patrol and 15 mph target and XMIT on REAR with no target: 1.46A HOLD on FRONT & HOLD on REAR, stationary: .78A HOLD on FRONT & HOLD on REAR, moving: .82A XMIT – 1 antenna, HOLD – 1 antenna, no target, stationary: 1.05A XMIT – 1 antenna, HOLD – 1 antenna, no target, moving: 1.10A XMIT – 1 antenna, HOLD – 1 antenna, 25 mph target, stationary: 1.66A
Environmental
-30° C to +70° C, 90% Relative Humidity Operating -40° C to +85° C, non-operating
Display
Five multi-color (red, green, amber) 3-digit Light Emitting Diode (LED) windows for target, fast/lock, and patrol, plus red LED mode indicators and LED target direction arrows
Mechanical
Display Unit Weight - 226 grams Size - 42mm Height, 27mm Depth, and 140mm Width
Counting Unit Weight - 725 grams Size - 42mm Height, 99mm Depth, and 140mm Width
Antenna Weight - 635 grams Size - 63mm Dia. X 120mm Length
Remote Weight - 181 grams Size - 25mm Height, 157mm Length, and 57mm Width
Accuracy
±1.6 km/h stationary, ±3.2 km/h moving
Automatic Self-Test
Performed every 10 minutes while transmitting
Stationary Speed Range
19.3 kph to 321.8 kph Standard or 3.2 kph to 321.8 kph (set-up menu selectable) Stationary Fastest Speed - Same speed range as stationary speed
Moving Speed Range
Patrol speed – Once acquired, will track to 241.4 kph. Acquisition speed is selectable with P.S. 5/20 key.
5 in patrol window for patrol speed acquisition speeds of 8 to 152.8 kph
20 in patrol window for patrol speed acquisition speeds of 32 to 152.8 kph
Opposite lane target speed – 321.8 kph Max closing
For 8 kph patrol speed: 32 kph to 313.8 kph;
For 112.6 kph patrol speed: 56.3 kph to 209.2 kph.
Opposite lane Fastest Speed – Same speed range as opposite lane speed
Same lane target speed – Related to patrol speed: ±70% of patrol speed within 8 kph of patrol speed.
For 80.4 kph patrol speed: 24.1 → 72.4 kph and 88.5 → 136.7 kph.
Same lane patrol speed must be greater than 24.1 kph
Microwave Specifications:
Antenna
Conical horn with corrective lens
Polarization
Circular
3 db Beam Width
12 ±1º
Microwave Source
Gunn-Effect diode
Receiver Type
Two Direct Conversion Homodyne receivers using four low-noise Schottky barrier mixer diodes
Power Output
10 mW minimum, 25 mW nominal, and 50 mW maximum
Power Density
2 mW/cm2 maximum at 5 cm from lens
Ballinger Technology Pty Ltd
Unit 20/23 Heyington Avenue Thomastown Vic 3074
Phone 03 93868722