Stalker Radar Pro II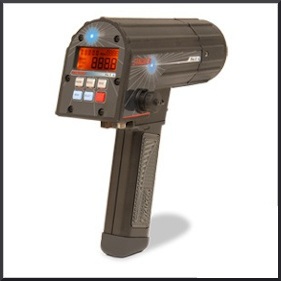 The Stalker Radar ProII sports radar is the sports radar of choice for professionals looking at ball speed, vehicle speed or performance coaching tools.

Used by coaches, scouts and sports scientists around the world it is now available in a number of formats:
PROII: Hit Speed and Peak Speed
PROII +: PRO II + wireless coms.
PROIIS: PROII with wireless comms and spin rate.
Available stand alone or with a display and tripod package.


1-890 mph speed range
Waterproof to 2 feet of water
Removable, rechargeable lithium-ion battery handle
Constant transmit time of 2 hours per charge
Measures MPH, KM/H, knots, M/S
Ka-Band Doppler Radar
2 active speed windows; 5-digit status window; separate peak window
Back lit LCD display and keypad
Press trigger to transmit (or Press Transmit / Press Hold) user selectable
Includes 120 VAC wall adapter
Optional 12 VDC Cigarette Plug Cable
12-degree radar beam
10 msec acquisition time
10 mw transmitter power
RS-232 communication with RS-485 available on special order
1200 to 38.4K baud
High Speed Cutoff 150 mph and 300 mph
Recall Previous Display: 10 previous
Stopwatch Function (requires optional stopwatch cable): basic, lap timer, split timer
24 Month Warranty (Parts and labour)
Stalker Pro II+
Wireless Connectivity
- Wireless streaming of velocity readings to stadium scoreboards and LED speed signs.
Stalker Pro IIs
Wireless Connectivity
Ball Spin measurement.

Speed Range
1 - 1200 KPH
Accuracy
+/- 3% of reading
Maximum Clocking Distance
For baseballs - 150 metres of unobstructed views
2.8 kilometres for an average auto
Transmit Time
2 1/2 hours per charge
Units of Measure
mph, km/h, knots, m/s
Resolution
Tenths and ones - user selectable
Radar Beam
12 degrees
Acquisition Time
10 ms
Transmitter Power
10 mW
Communication
RS-232 communication with RS-485
available on special order, 1200 to 38.4K baud
Operating Temperatures
-30°C to +70°C
Storage Temperatures
-40°C to +85°C
Weight (with battery handle)
975 grams
Dimensions
18.6cm H x 7.2cm W x 20cm L
Housing Material
Aluminium and Magnesium
Ingress Protection
IP67 dust and water proof
Ballinger Technology Pty Ltd
Unit 20/23 Heyington Avenue Thomastown Vic 3074
Phone 03 93868722