SDS Display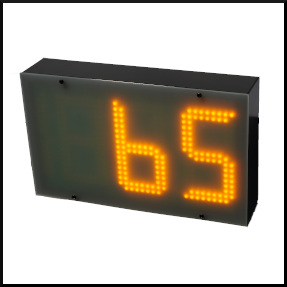 The SDS Display includes high brightness LEDS, 3 1/2 digits and an interface to all Stalker Radar sports radars and sensors. Custom interfaces available.

Ballinger Technology's SDS Display interfaces to a number of different devices including different types of radar, lidar and Ballinger Technology's speedometers. Visible in direct sunlight and incorporating automatic dimming for low light conditions these instruments work just as well indoors as out.

Built in Australia, using a unique lensing system, the SDS Display competes with similar imports, with at times lower pricing.
Made in Australia by Ballinger Technology
4 digit LED display which is visible in direct sunlight
Auto dimming.
RS232 or RS485 interface.
Interfaces to a variety of instruments.
Low power consumption
Water resistant version available.
Dimensions
Car type: 80mm W X 29mm D X 40mm H
Motorcycle type: 120mm W X 34mm D X 39mm H (Includes mounting flange)
Power
12 VDC operation
Interface
RS232 and RS485.
Compatability
- All Stalker radar speed products.
- All Balllinger Technology Speed products.
- Some Kustom Signals Products.
- Custom Interfaces available.

Display
- 7 Segement High Brightness LED.
- Auto Dim.
- Visible in direct sunlight.
Ballinger Technology Pty Ltd
Unit 20/23 Heyington Avenue Thomastown Vic 3074
Phone 03 93868722