Diamond Traffic Products Omega X3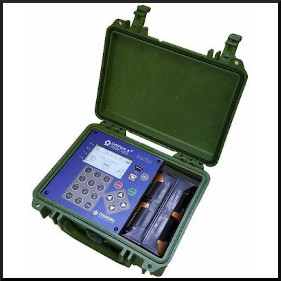 Diamond Traffic Products Omega X3 is 4 tube vehicle Counter/Classifier suited for use in mixed traffic, it includes Bluetooth address datalogging for travel time or origin/destination data.

The unit is compact and includes a lightweight watertight case. It is programmable via an onboard keypad and LCD display, or by a PC using a USB cable or Bluetooth wireless communication. Real time vehicle data can be viewed on the display along with classification data.

Diamond Traffic's Centurion Software can be used to program the counter, download, analyse and format collected data with post processing of vehicle binning to the Austroads binning format as well as the ability for users to tailor their own vehicle and speed classification bins.

Remote access to the Omega X3 can be carried out using the Centurion software package allowing for real time vehicle data view, programming and download of data if the installation is set up for telemetry.
Bicycle and vehicle counting/classification using road tubes.
Optional Bluetooth address recording for travel time and destination studies.
Count up to 4 lanes
Classify up to 2 lanes
High resolution time and date stamp recording with Austroad classification compatability.
Real Time Classification Monitoring via LCD
Real time viewing of collected data.
End of Study Summaries via LCD
Inbuilt GPS for location data.
On-board Sensor Diagnostics
High Speed Communication using bluetooth or USB interface.
Cellular modem compatable.
Programmable via on board keyboard, USB or Bluetooth.
Upgradeable Firmware
Centurion CC software for setup, download and data analysis.
Binning formats can be changed post data collection.
Replaceable Airswitches
Ultra Low power consumption with Smart Power Management
5+ years battery life using internal batteries.
Separate battery for Bluetooth datalogging.
Compact Size and Lightweight
Size
10.9cm x 19.8cm x 24cm
Case
Polypropylene molded case with lid and thumb latches. O-ring seal with sealed sensor inputs and carry handle. Crush and impact resistant. IP67 rated.
Weight
1.36 kgs
Operating Temperature
-40° C to 72° C
Power
Main Battery: Lithium 3.6v. Battery Life - 5+ years
Secondary Battery: 8 x "D Cell" Alkaline 12v
Bluetooth Origin/Destination Data Battery Life: 18-30 days of recording (depending on environmental conditions and battery state).
Keypad
19 button membrane keypad
Display
128x64 LCD graphic display with backlight.
Four LED channel activation indicators.
Memory Capacity
512MB flash chip holds 120 million timestamps
Files
Unit stores up to 65,000 files in flash memory
Communication
USB A Host
USB B Peripheral
Bluetooth Serial Port
Bluetooth Low Energy
Optional RS232 Serial Port
Sensor Inputs
Four watertight piezo airswitches (road tube).
1-4096 millisecond programmable timeout value
On board sensor diagnostics
8-193 KPH normal operating range
Metal nozzles accept Standard Road Tubes (1/4inch) and Mini Tubes (3/16inch)
Four optional Open Collector style inputs which can connect to tapeswitches or other devices. (requires the addition of the External Input Connector)
Timestamp Record Resolution
Sensor resolution is performed and stored at 30.5 Microseconds (0.0000305 sec)
Data Storage Types
Sensor timestamps for four airswitch channels
Temperature and Battery Voltage
Site Setup and Data Study
GPS location (at beginning and optionally every six hours)
Text Message Alerts (when Optional Modem installed)
Bluetooth MAC addresses (optional feature)
Optional Outputs
Four channel optically isolated outputs
I/O expansion port for integrated designs
Lane Sensor Configurations
Count:
Normal
Median (2 or 4 tube Normal)
Short/Long (aka Lane Subtract)
Directional
Divide by 2 available for all modes

Class:
1 Lane Directional
2 Lane Bi-Directional
2 Lane Same Direction
4 Lane Bi-Directional with Median
Programmable sensor spacing from 10cm to 4.8 metres
GPS
Onboard GPS for location storage, clock calibrations and data tampering security features.
Ballinger Technology Pty Ltd
Unit 20/23 Heyington Avenue Thomastown Vic 3074
Phone 03 93868722