TRAFx Trail Counter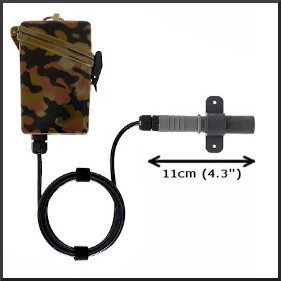 The TRAFx Trail Counter is designed to count pedestrian and bicycles on trails and paths — hikers, joggers, horseback riders, cyclists, etc.

Utilising a small, easy to hide passive infra red sensor, the Trail Counter does not require a reflector and can count traffic either looking across or down on the path..

This instrument comes with free setup and download software and access to the industry leading Datanet traffic analysis software when purchased as a package. Combine your vehicle, bicycle and pedestrian counts into one set of data.
Counts people on trails, paths and sidewalks
Advanced microelectronic design
High-quality passive infrared scope. No reflector required.
Infra red scope can be mounted looking across the path or down on to the path.
Compact, unobtrusive, camouflaged design
Very long battery life (up to 10 years)
Large storage capacity (millions of counts)
Maximum range: 6m
Built for outside: -40C to +55C
Mount on a tree, or put inside a low-cost, lockable electrical box
Very low operating costs.
Rechargeable batteries available for a greener footprint.
Field-proven, Generation 4 design (>10 year history)
Used from Alaska to Australia, in remote and urban areas
Size
11cm x 7cm x 4cm
Weight
170g (without batteries)
Cable
1 metre
Power
Three "AA size" alkaline batteries (e.g., Energizer)
Battery Life
Approx. 9 to 10 years
Digital Memory Design
Data and settings are retained even
when batteries are replaced or die
Time Keeping
Quartz clock; 10ppm accuracy @ 20C
Operating Temperature
-40C to +55C
Sensor Type
Thermal infrared microsensor
Detection Range
6 metres
Communications
RS232 serial; 115,000 baud
Data Type
ASCII; .txt file type
Other
Gold-plated circuitboard; two coats silicon (anti-moisture);
ESD protection and short circuit protection; RoHS (lead-free)
Limited Warranty
1 year; covers manufacturing defects.
EMI Compliance
FCC, IC, CE
Ballinger Technology Pty Ltd
Unit 20/23 Heyington Avenue Thomastown Vic 3074
Phone 03 93868722