Stalker Radar X-Series LIDAR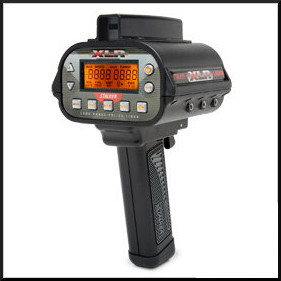 The Stalker Radar X-Series LIDAR takes the industry's most advanced Police LIDAR technology and puts it in an less expensive package.

With a Heads Up Display containing speed and distance information as well as a user friendly reticle the XLR provides the pinpoint accuracy that all Stalker Radars LIDAR's have. With doppler like audio to aid tracking, the ability to see targets through windshields and in the worst weather conditions and set measurement zones, the X-Series incorporates the best features of other LIDARs on the market in a simple easy to use package.

The X- series LIDAR is a great less expensive alternative for Police, Councils, traffic analysts, and road authorities that don't need the sophistication of the RLR lidar.

Fast target acquistion.
Target tracking.
Long range.
Speed and distance displayed in the Heads Up Display.
Doppler type audio.
School Zone / Construction Zone Mode
- This allows the operator to easily define a specific such as a school zone or reduced speed construction zone. The unit will then only obtain speeds while the target vehicle is in that area.
Inclement Weather / Obstruction Mode
- The Stalker RLR units have, as standard, a Inclement Weather/Obstruction Mode which allows the unit to work in rain, snow, blowing dust, fog, as well as through fences, tree branches, etc. This also increases the operating distance when using the X-Series LIDARs through the front windshield of the patrol car.
Anti-Jamming Capability
- The RLR now have software that not only detects but ignores jamming pulses and continues to provide accurate speed tracking.
Shoots Through Windshields
Calibration Expiration Notice
Battery life: 2 shifts or longer.
Battery charge cycles: More than 500 charging cycles.
Lightweight ergonomic design.
Type
Handheld LIDAR offering Tracking mode and Single-Shot* mode
Dimensions
22.6 cm Height, 11.9 cm Length, 11.9 cm Width
Weight
Including Battery - 1.09 kg
Housing
High Impact Resistant polymer housing
Ingress Protection
IP67 dust and water proof
Environmental
-30° to +60° C, operating
-40° to +85° C non-operating
Battery Life
Typically 500+ charge cycles
Battery Charge
Li-ion battery: Approx. 2 - 3 shifts
Acquisition Time:
0.33 second
Nominal Range
on moving targets:
XLR LIDAR
Minimum - Range mode <1.5 m - Speed mode 15 m
Maximum >1219 m

XS LIDAR
Minimum - Range mode <1.5 m - Speed mode 15 m
Maximum 610 m
Range Accuracy:
±30 cm
Maximum Speed Measurement:
481 km/h
Speed Accuracy:
±1 km/h
Operating Wavelength:
905 ±10 nm Peak @ 25° C
Pulse Width:
< 30 nsec.
Beam Divergence:
< 3 ± 0.5 mrad FWHM.
.9 m x .9 m @ 304.8 m
Eye Safety:
Class 1M (EU)
Ballinger Technology Pty Ltd
Unit 20/23 Heyington Avenue Thomastown Vic 3074
Phone 03 93868722