Diamond Traffic Products TTC-4430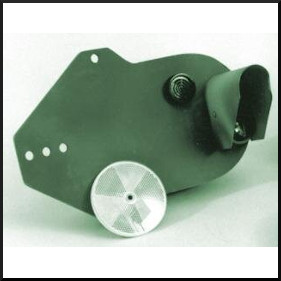 Diamond Traffic Products TTC-4430 is a portable, battery operated pedestrian counter/datalogger. Its active infrared sensor suits long distance applications. With inbuilt datalogging and an interface to the Centurion Software package the current TTC-4430 is far removed from the original Trail Counter was designed and developed at the U.S. Forest Service Equipment Development Centre.

The redesigned TTC-4430 operates on four "D" cell flashlight batteries for 12-15 months. The counter is designed to bolt to the backside of a tree and is easy to conceal and install.

Ideal for longer range applications where a passive infrared type counter does not have sufficient range.
Long range using an active infra red sensor and reflector.
User selectable logging intervals from 5 minutes to 24 hours.
User settable start and stop counting times.
Monitor counts in real time either using the onboard display or in the Centurion software package.
Setup using the onboard display and magnet activated switches or via the Centurion software package.
Battery powered, portable, counter for use in remote areas
Rugged, watertight aluminium construction
Scanner and reflector can be separated by up to 20 metres
| | |
| --- | --- |
| Size | 25.5cm x 7.5cm x 18cm |
| Case | Weathertight IP64 cast aluminium case with separated battery compartment |
| Weight | 3.6kg |
| Power | Four "D" alkaline batteries. Average life is 12-15 months. |
| Display | LCD 6 Digit |
| Count | Continuous volume grand total |
| Memory | 10,000 - 1 hour intervals (over 400 days) |
| IR Wave Length | 9400 A |
| Detection Range | ~20 metres |
| Unattended Operation | 1 year plus |
Ballinger Technology Pty Ltd
Unit 20/23 Heyington Avenue Thomastown Vic 3074
Phone 03 93868722