Automotive CAN Bus Interface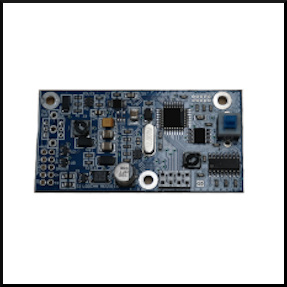 Automotive CAN Bus Interface are a tool for any OEM working with vehicles running CAN Bus networks. Our base module supports Police radar VSS. In many vehicles the ability to link to a pulse string or look at a switch activation to determine if something has happened in a car, truck or bus is no longer possible, with the CAN Bus providing a firewalled interface to the vehicles sensors.

Specialists in vehicle speed, Ballinger Technology has a CAN Bus module specifically aimed at Police Radar VSS. This module reliably outputs a speed pulse frequency proportional to vehicle speed under the most extreme conditions when most other interfaces stop outputting VSS.

Our base model incorporates an easy serial setup system from a laptop or PC and a speed pulse output. We can however customise the CAN Bus Interface to look for other data and activate an output dependent on what it sees.

Talk to us about what we can do for you in this field.
Base unit capable of outputting a variable frequency pulse string based on CAN bus derived speed.
Able to monitor other vehicle systems.
Base unit has one trigger out.
Systems available with either:
- Text based interface.
- Display and control environment
Configurable for:
- Standard CAN.
- CAN FD.
- Extended addressing.
Simple text based user interface.
Inbuilt CAN Analyser available.
CAN interface
- Standard CAN.
- CAN FD.
- Extended addressing.
Voltage
+12VDC
Housing
- Metal.
- ABS
Speed pulse output frequency.
Approximately 2 Hz per KPH.
Speed Accuracy
±1 km/h
Trigger Output
Open Drain FET.
Serial interface.
RS232 9600 8 N 1.
Ballinger Technology Pty Ltd
Unit 20/23 Heyington Avenue Thomastown Vic 3074
Phone 03 93868722