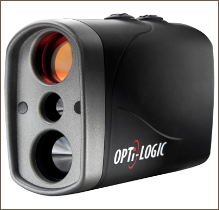 Micro II: 395 metres passive
Based on the construction and
case of its pocket-sized older
brother the Micro I, the
OptiLogic Micro II is one more
example of how Opti-Logic is
pushing the envelope of Laser
Rangefinder technology.
Also measuring a petite 3 1/4 inches L X 2 1/2 inches H X
1 3/8 inches W, the Micro II is stout, but loaded with features
any hunter can benefit from-including an extended
800 yard (reflective) ranging capability.
Unlike the Micro I that is specifically designed with bowhunters
in mind, the Micro II takes into consideration the various needs
of the two-season firearm and bow hunter with a total reflective
range of 800 yards and the ability to effortlessly range deer or
other game to 400 yards. Fully loaded with huge features this
simple-to-use unit features Ballistics Compensating VACTM Technology (Vertical Angle
Compensation). Low light conditions are no match for the Micro II with a intensity-adjustable internal Red Dot Aiming system that is brilliantly displayed through fully coated, magnification-free optics with 50mm of monstrous eye relief. A single CR2 battery powers the adaptable Micro II while three easily selected ranging modes are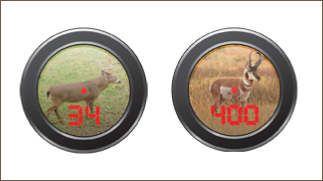 available with simple one-touch operation: Yardage, Meters and
Ballistics Compensation with VAC™. Each ranging mode is clearly and
easily displayed on the backside of the unit by a vivid-green LED
light- no guess work here! The waterproof and shock-resistant
Micro II sports a rubber-coated, velvet-like finish, that offers durability
for years of hard wear.
The vertical orientation of the Micro II is also easily cradled in even the
mallest of hands and at less than 4 ounces this uber-compact unit is not only a space-saver, but ultra-light! Big game and bivy hunters alike will appreciate its feather-light design and rugged construction along with its extensive features. Included with each rangefinder is a deluxe, black Cordura-like, carrying case with noise-free magnetic closure, belt loop and tether clip making it a snap to access during those split-second, dare-to-be-great situations at the trophy-of-a-lifetime. The Micro II includes a full two-year warranty against manufacturer's defects.