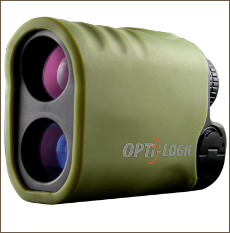 OnPoint GT: 1000 metres passive.
When it's time to put your golfing partners in th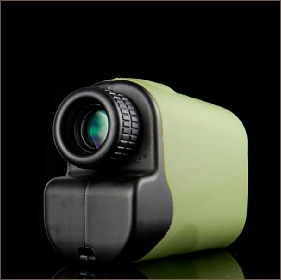 eir place, grab your OnPoint™ GT! The OnPoint™ Series GT Laser Rangefinder is a Laser Rangefinder System combining a pulsed laser rangefinder and vertical angle sensor, in a lightweight, easy-to-use package. This laser rangefinder is well suited for range finding Golf applications requiring long range precision uphill or downhill distance measurements. The OnPoint™ Golf Series hand-held laser rangefinders are capable of measuring distances to non-cooperative targets. Incorporating a precision internal electronic angle sensor, the OnPoint™ GT Series are also capable of automatically correcting for vertical angle (also called Slope), using our patented Vertical Angle Compensation (VAC™) technique. VAC™ provides a ballistically compensated distance to an uphill or downhill target with a single push of a button. This feature is absolutely critical for any Golfing application.
Starting with the rubberized housing, the OnPoint™ is play ready with exceptional 6X magnification optics and a simple, easy to understand internal LCD display. This easy-to-use unit ranges from 4-1,000 meters (1094 yards) (passive) with 1-yard resolution. in .5 yard increments. Equipped with an automatic Rain, Scan, and Line of Sight Trajectory modes the unit offers a ranging solution for any golf situation and is the perfect partner for any outing.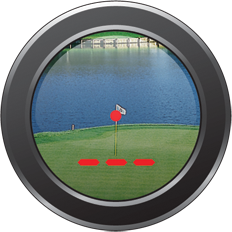 Measuring 4.29 inches L X 2.95 inches H and 1.71 inches W, each compact unit perfectly fits the included carrying case or easily in a jacket pocket or golf bag. Powered by a single Long-Life CR123A battery, the low current draw of the OnPoint™ GT will provide over 2,500 "shots" on a single battery. At less than 8 ounces, the vertically oriented unit is compact, lightweight and ready for action in the field. With an OnPoint™ in your hand you can be confident that every shot you take will be accurate, the rest is up to you. Includes a full two-year warranty against manufacturer's defects.
Conform to USGA/R&A Decision 14-3/0.5 in
MODES 1 &2.
In MODE 3 they are used for training only and
DO NOT CONFORM to USGA/R&A Decision 14-3/0.5