Ballinger Technology Pty Ltd
Design, Distance, Speed, Vehicle Counting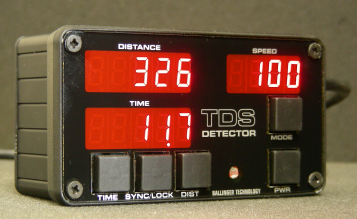 Are you missing speeders in areas where your Police Radar can't be used. The TDS Detector, Time Distance and Average speed measurement instrument can be used in built up areas, windy roads and roads divided by medium strips. It does not replace, but compliments a mobile radar giving any user added flexibility in how they measure a vehicles speed.
Offering both Time Distance and Average speed measurement or just straight speedometer mode the TDS Detector can be used to measure a vehicles speed in a number of ways.
TDS Mode:
In TDS mode the TDS Detector utilises three push button switches to control the start and end of time and distance measurement sequences giving the user the ability to start and end time and distance measurements separately using the TIME and DISTANCE switches or synchronise when time and distance measurements start or end using the SYNCH/LOCK switch.
To eliminate time or distance display rollover during long pursuits, both the TIME and DISTANCE displays have 5 digits giving a distance measurement capability of 99999 metres and for time, 9999.9 seconds.
Speedometer Mode:
In Speedometer mode the TDS Detector acts as a time averaged speedometer giving +/- 2 KPH accuracy across its full measurement range. Speeds can be locked into the SPEED display using the SYNCH/LOCK switch.
Programming:
Programming the TDS Detector is simple and easy with the calibration being conducted by driving over a 500 metre distance. The calibration factor is stored in non-volatile memory so that it is not lost. On power up the calibration factor is displayed as part of the self test routine.
Video/datalogging:
For applications where a data logger or in car video are installed the TDS Detector has an integrated serial port with a selectable output format to suit either direct data output or for video applications, an output to drive a dedicated video convertor card, which overlays all data displayed on the TDS Detector onto both the video image and the video recording. An optional GPS interface is available with the video convertor card.
Self contained the TDS Detector is the ideal Time Distance and Speed measurement instrument.
Speedometer:
+/- 2 KPH accuracy with the speed readings being averaged over a 2 second period with a 0.5 second display update rate.
Speed Lock switch to allow checked speeds to be locked into the display. The 4

th

status character in the display, displays L when the speed is locked ie: L120, with L standing for lock and 120 being the locked speed.
Speed data transmitted over a serial output.
TDS mode:
Measures Time and Distance with average Speed being self calculated at the end of a measurement sequence
Separate TIME and DISTANCE measurement activation switches.
SYNCH/LOCK switch to synchronise the start and end of measurement sequences.
Time displayed to 9999.9 seconds with +/- 0.1 second accuracy.
Distance displayed to 99999 metres with +/- 1 metre accuracy.
Speed displayed to 275 KPH with +/- 2 KPH accuracy.
Time, Distance and Speed data transmitted over a serial output.
General:
Universal interface allows the unit to be installed on any vehicle and the vehicles own speedometer input signal to be used as the input signal to the TDS Detector.
Calibration to different vehicle types carried out by driving over a measured 500 metre distance.
Internally selectable serial data string for:
- Standard RS232 communication.
- Control of a dedicated RS232 to video converter card
Both serial data strings contain not only data on the measurement currently being taken, but also a continuous indication of the vehicles speed.
Trigger output for video record activation when measurement sequence commenced or a speed is locked in.
Self test function.
Low power consumption.
12 VDC Power supply.
Self contained measuring: 151mm wide X 51mm high X 35mm deep.
Made in Australia